I feel the sand slipping through the hourglass.
And of all reasons to update Livejournal after such an extended absence, I'm merely writing because I'm nervous. Apprehensive. Maybe even a little scared.
Excited, given. Thrilled, enthralled--amazed... but I have to look past my own personal demons for those. Something I can only seem to pull off about half of the time I think about it... Which is all of the time in the past week and beyond.

It has consumed me.
and "It" is the Sage Francis show tomorrow night.

I haven't even given a moment's thought to the fact that I'm going to actually be watching Sage perform live tomorrow night. That I'm going to get to bask in the ambiance of seeing Alias live for the first time. Buck 65.
Nope.

All I'm thinking about is Buddy Wakefield.

It was a strange twist of fate that found me talking on the phone to Buddy only a little over a month ago. He began by questioning, "I heard there is one bad beatboxer named Sean in Charlotte, NC?" I floundered and told him I was no Rahzel--and had no stage experience. It was no suprise that after a Pro Tools recorded audition sent to his e-mail, he turned me down for the part.
It felt almost like a relief. It felt more like a stab in the side.

It was only a couple weeks ago that I got another e-mail from Buddy. He hadn't found anybody else yet. He might need me.
After mustering the most confident tone I could, replying to his letter and recieving the response "Well... Be ready." My friend Laurence told me it was time to start considering myself as having the gig. He was right.

I practiced yesterday with Swan and Laurence. Swan being the "backup diva" for the part. Myself being the beatboxer. I still feel unprepared--but I think thats just all part of it. I don't think I'll ever be 100% ready in any measure of time. It's something I just have to go out there and do. I just hope the courage finds me to go out there and do it well.
for Buddy's sake. For my own. To participate in warming up the stage for Sage Francis will be living dreams.

So here is my final, feeble cry across old haunts. Wish me luck.
Tomorrow is coming fast.

edited 6/4/07 @ 2:38 a.m.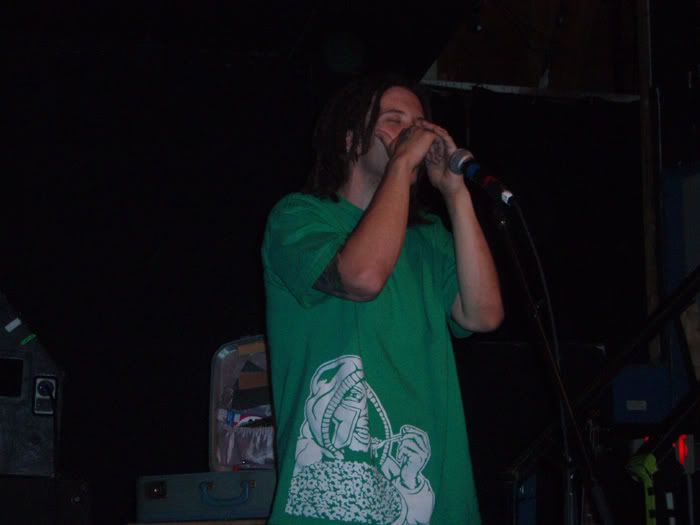 I rocked Carrboro, NC with Buddy Friday night.



I rocked Atlanta, GA with Buddy Saturday also.



Who do you think won?